Healthcare Data Migration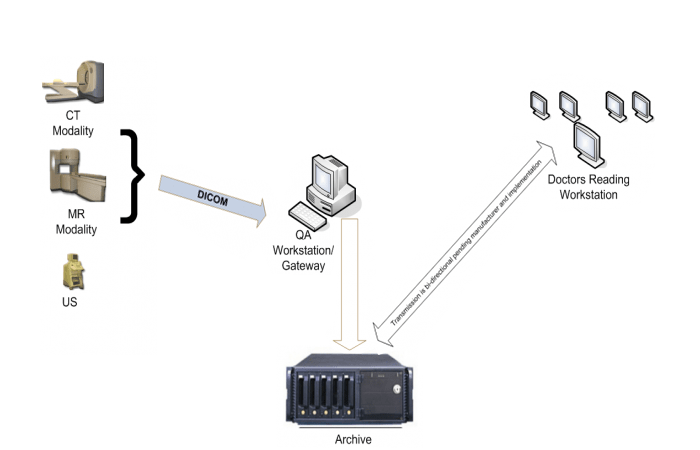 Healthcare data migration from legacy system is getting complex and critical with advent of RIS, CVIS, EHR, EMR, CPOE and other data driven information system employed in today's healthcare industry to deliver best medical care. Healthcare industry is creating massive volumes of structured and unstructured data, digital imaging and video content each year. In 2011 U.S healthcare system generated 150 Exabyte data according to the Institute for Health Technology Transformation and expect to reach the zettabyte scale soon at its current rate of growth. Healthcare organizations must find efficient and effective ways to store, manage and protect much larger data volumes than in the past. Process of mining, converting and loading healthcare data from existing source (legacy archive) to new source (destination archive) is simply designated as healthcare data migration. PrimeArray System Inc. understand the critical process involved in continuously evolving analytics data driven healthcare industry and what new data migration technology changes smart leaders of healthcare industry is looking for.

Healthcare data migration is not a simple process of extracting data from one source and transfer to new source. Many people see data migration as a relatively simple, straightforward process, in practice it's anything but straightforward. Migrating data to new EHR (Electronic Health Record) system require error free data migration expertise and proven technology. PrimeArray's well defined data migration processes, knowledge of optical environments and our optimized migration software ensure successful healthcare data migration to create the foundation for digital healthcare enterprise created with high quality medical data with great accuracy and timely delivery. Our state of the art data migration technology provide clean digital data for maintaining high class patient care through accessing accurate clinically relevant healthcare information achieved by healthcare data migration process. Any health organization planning to change, upgrade or modify existing RIS, CVIS, EHR, EMR, CPOE or any other data driven healthcare information system need proven data migration service can rely on PrimeArray Inc. PACS and DICOM data migration service.


Industry Leading Data Migration Services from PrimeArray
PrimeArray's end to end healthcare data migration solutions perform data diagnostics, recover, transform, deliver, comprehensive data migration projects for healthcare network. Our innovative healthcare data migration solutions is compatible with multi-vendor RIS, CVIS, EHR, EMR and other available healthcare system in use. Our project managers employ industry leading data migration applications to fit with DICOM data migration standards. We offer robust PACS data migration service that include PACS data cleansing and quality assurance (QA) tool with audit capabilities. PrimeArray healthcare data migration solutions make sure continuity of patient care by offering a fully compliant DICOM and HL7 data migration solutions. We ensure our client can save both time and money with our proven data migration service that can access virtually any healthcare system for direct media reads. Wants to realize faster return on investment (ROI) for healthcare IT investments in EHR, EMR, CPOE, CVIS and PACS data migration, contact PrimeArray System today.
Why Need Data Migration
Healthcare industry is now on the forefront of technological innovation that gave birth to RIS, CVIS, EHR, EMR, CPOE and other integrated data driven solution to manage patient information, pathological and other test result and medical history for better patient care. Emergence of different health technology and system also created industry standard for digital information storage, communication, compatibility, data safety and government regulations. Now health organizations are struggling to cope up with onslaught of data growing at exponential rates. Changes in govt. and industry regulations require massive healthcare data volume reorganization, modification, integration and management of data. PrimeArray healthcare data migration will be an effective tool in following scenario.
Data Migration for PACS Implementation
Whether implementing a PACS for the first time or changing PACS software or adding new interfaces with multiple systems within healthcare network impact legacy data archive that may not be accessible or read from backup media. When managing PACS changes, it's important to find a provider with PACS data migration expertise to help you in extracting data form old (legacy system), validate and transfer to new system and also maintain uninterrupted patient care.
Storage Management
Planning for upgrading your healthcare network data storage for short term/ long term strategy to a highly scalable data storage or storage vendor changes may result data loss and downtime. Demand for massive data storage from healthcare industry is on the rise with expectation of highly manageable system at reduced costs means frequent vendor changes. PrimeArray healthcare data migration can facilitate efficient data migration to new storage without the fear of losing data and downtime.
Archiving Legacy Data
Legacy data archiving in healthcare industry is getting more challenging as Big Data now considered as cornerstone for rapid development of new technology and application for the industry. They are implementing more and more new IT initiatives while maintaining a growing number of legacy systems that are no more cost effective. Many of these system run independently and cannot be upgraded or integrated with latest technology standard but contain critical patient data ranging from clinical to financial information that must be archived, secured and easily accessible for fulfilling compliance and legal obligation of handling of healthcare data. Don't worry, PrimeArray healthcare data migration provide streamlined legacy data archiving solution at your disposal. Call us today learn more about how you can save lot of man hour and money while archiving legacy data.
RIS Migrations
Moving into PACS supported RIS from legacy RIS need proper evaluation of migration data that could potentially contain polluted data as one cannot ensure 100% clean data even with the best administrators. PrimeArray project manager employ Vendor Neutral approach to analyze and design a RIS migration solution to best fit your need. Our proven track record of handling most popular RIS application and expertise in healthcare data migration with multivendor tools and application enable us migrate the most complex RIS without any delay.
Migration to Secure Off-Site Media
Data storage technology and supported media formats are not universal as new standards keep coming that are more secure, cost effective and offer better cross platform compatibility. Keeping massive data generated in a healthcare organization secured and up-to-date is a gargantuan task. PrimeArray healthcare PACS and DICOM data migration service can extract content from any type of media and migrate to supported media format at your secure off-site facility.
Media Sharing
As an increasing number of health organizations are moving to a comprehensive, integrated information system such as RIS, EHR, EMR, CPOE, CVIS, CPOE and HIS for managing all aspects of a hospital or health network's medical, administrative, financial, legal operations and corresponding processing of services. These networked system enable secure and easy exchange of medical images and exchange management to cope with an ongoing challenge nearly everyone in a healthcare organization faces. Contact us for DICOM data migration and get a solution for the longstanding challenge of image sharing.
Data Migration for HL7 (Health Level-7)
Healthcare organization are adopting HL7 standard for sharing, integration, retrieval of electronic healthcare information in consistent manner to allow interoperability between EMR, LIS, Billing systems, EHR systems etc. PrimeArray can help you with data migration challenges in HL7 initiation.
Health organization can rely on PrimeArray healthcare data migration service with years of experience in professional data migration of legacy DICOM data from PACS enabled HIS, RIS and EMR systems. Our capability of handling data migration for multiple vendor RIS or PACS software solution is guaranteed to give your satisfactory result.