NAS Server: Network Attached Storage
What is Network Attached Storage (NAS)?
All businesses and organizations, at some level, require a reliable and efficient data storage system. Hospitals must keep track of large databases, patient info & training media. Schools and universities require a secure and cost-effective way of storing multiple types of files. Businesses need to access crucial information whether it be deliverables, inventory data, or even employee handbooks.
A network-attached storage (NAS) device is a data storage device that connects to and is accessed through a network, instead of connecting directly to a computer. NAS devices contain a processor and operating system so it can run applications and provide the intelligence needed for files to be easily shared by authorized people.  The beauty of a NAS device is that it can be easily accessed by multiple people, multiple computers, mobile devices, or even remotely. A NAS device is a storage device connected to a network that allows storage and retrieval of data from a central location for authorised network users and varied clients. NAS devices are flexible and scale-out, meaning that as you need additional storage, you can add to what you have. NAS is like having a private cloud in the office. It's faster, less expensive and provides all the benefits of a public cloud on-site, giving you complete control.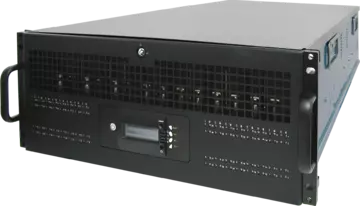 Why is NAS Important for Small Businesses?
It's true that Data is a critical asset for every companies
From home offices and small to mid-sized teams to big businesses and enterprise workloads, Archive, store, and share mission-critical content across teams is very important.
Without access to the data, companies may not provide their clients with the expected level of service. Poor customer service, Bad Customer relation, loss of sales, team collaboration problems are all examples of what can happen when data is not available.
Each of these issues are very critical and contribute to lack of outcome and potential loss of income. No Customers will wait for a data outage to be corrected. Additionally, when it comes to data storage, small businesses find themselves faced with other storage-related needs such as Lower cost options, Ease of operation, Ease of data backup
NAS devices are becoming very popular with enterprise and small businesses in many industries as an effective, scalable, low-cost storage solution. They can be used to support email systems, accounting databases, payroll, video recording and editing, data logging, business analytics etc.
PrimeArray systems can manufacture NAS systems from small to large depending on your requirements
PrimeArray NAS storage systems are extremely reliable, customizable, affordable and scalable. If your business is in search of a high grade storage system from a company that's been in business for over 20 years without a massive price tag and from a name you can trust.
PrimeArray would be happy to welcome you as a client! Please browse our signature NAS data systems or contact us to learn about our offerings and products. If you can dream it PrimeArray can make it!
Network Attached Storage (NAS) is a network connected storage device that allows for easy access for data storage and retrieval in one centralized destination. Users locate the files that they want stored onto the NAS, use software to upload files onto the NAS, the files can now be accessed by multiple clients simultaneously.
NAS can be compared to having "private cloud storage", but is much faster and more secure than cloud storage. The best part? No need to hire an IT professional, NAS systems are straightforward and rarely require technical support or expertise. Network Attached Storage is secure, cost effective and easily scalable for larger organizations. Looking to add more storage space to your NAS? Good news, they're easily customizable.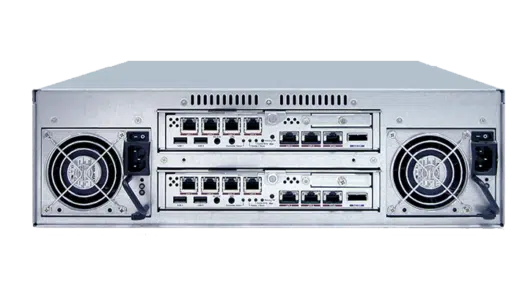 Pros of PrimeArray NAS device
Easy to operate
Low-cost set-up compared to other storage systems in terms of storing large amounts of data for extended duration
Easy and efficient data backup and disaster recovery management tools
Centralized storage offering complete control over authorization and access
Multiple users and devices can access the data at the same time
Offers enhanced customization options
Fully scalable
Usually, Network-Attached storage prices are custom-made to fit your budget
You control your own security
Can restrict the device from ever talking to the Internet
One time cost

Physically control the device and the data resides in the device that you physically own
FlexNAS Pro from PrimeArray
Support Dual-active controllers
Supports 802.3ad port trunking, Link Aggregation Control Protocol (LACP) with VLAN 
High data bandwidth of system architecture by powerful INTEL 64-bit RAID processor
Built for multi-user environments by providing high workload rates for heavy data transfer networks
RAID 6 capability provides the highest level of data protection
Supports Snapshot, Volume cloning, Replication, Thin Provision
Supports Microsoft Windows Volume Shadow Copy Services (VSS)
Management GUI via serial console, SSH telnet, Web and secure web (HTTPS)
Event notification via Email and SNMP trap
Menu-driven front panel display
3U 16Bay rack-mount redundant RAID subsystem with SBB compliant controller.
Supports iSCSI jumbo frame
Supports Microsoft Multipath I/O (MPIO), MC/S
Supports RAID levels 0, 1, 0+1, 3, 5, 6, 10, 30, 50, 60 and JBOD
Local N-way mirror: Extension to RAID 1 level, N copies of the disk
Global and dedicated hot spare disks
Write-through or write-back cache policy for different application usage
Supports greater than 2TB per volume set (64-bit LBA support)
Supports manual or scheduling volume snapshot (up to 64 snapshot)
Snapshot rollback mechanism
On-line volume migration with no system down-time
Online volume expansion
Instant RAID volume availability and background initialization
Automatic synchronization of firmware version in the dual-active mode
Supports S.M.A.R.T, NCQ and OOB Staggered Spin-up capable drives
High efficiency power supply which compliant with 80plus.
NAS is growing in popularity. And with good reason. NAS servers allow access to company data 24×7, and using the right hard drive will provide the best experience possible. FlexNas Pro equipped NAS servers help provide tremendous competitive advantages, increase levels of customer service, and extend the collaborative reach across any project, at any company. In many cases, the only limit to the usefulness of having a NAS solution in your business may be not having one at all!
Warranty
One year parts and labor
Extended warranty and service plans available
More information on the PrimeArray warranty
Pricing PrimeArray's systems are competitively priced and deliver great value. As every NAS network attached storage system is configured to meet the customer's requirements, the price varies depending on the configuration. Please contact us to receive a prompt price quote.