PrimeArray News and Resources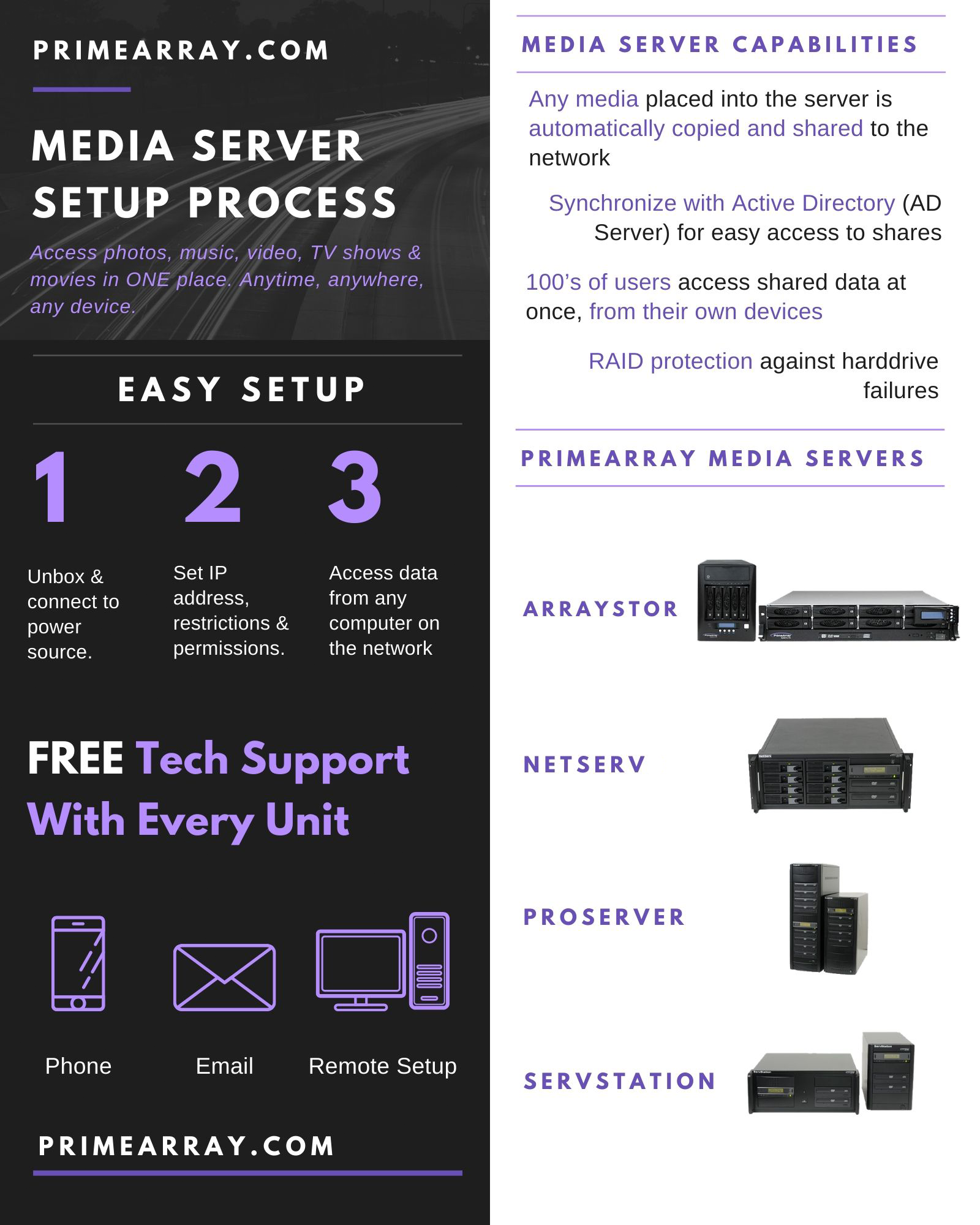 Media Server Setup
NAS Media Servers are used at any level between enterprise and home use. Businesses and individuals share the common need for data storage systems that can hold large media files. Media servers provide the ability to store, share and access; photos, music & video files at high volumes. Access media files from any device on the media server network and work with hundreds of users to streamline processes.
Easy Setup
A lot of the "heavy lifting" so to speak, is done on our end. PrimeArray gives users a simple set up instructions to get your media server up and running in minutes. Setting up your media server is now as simple as setting up your home router. First, unbox your media server and connect it into a power source. Second, assign your media server an IP address using the few buttons on the front of your PrimeArray NAS media server. Third, now that your media server is connected, simply select the files that you'd like to access/share and copy them to your media server using your Mac or PC. In three easy steps, you'll be able to share, store and access media files from any devices that are connected to your media server network.
Free Tech Support
In addition to the three steps mentioned above, there are more ways to make use of your media server. Set restrictions, permissions, passwords and more with help from the PrimeArray team. If you find yourself lost or confused, we encourage you to contact us for assistance. When you purchase any device from PrimeArray, you have free tech support from our on-site professionals 5 days a week. Call us at (800) 433-5133 or fill out a Product Support Form. We can even control your desktop remotely and complete the setup without you lifting a finger. We're here for you and want to assist all of our customers in making full use of our products.
Media Server Capabilities
Any media placed into the server is automatically copied and shared to the network
Set restrictions, passwords & permissions
Synchronize with Active Directory (AD Server) for easy access to shares
Media server shares by many common protocols - SMB, FTP, NFS, AppleTalk
Stored for speed - Once your media is imaged, it can be accessed much faster than reading the physical media
100's of users access shared data at once, from their own devices
RAID protection against harddrive failures
PrimeArray Media Servers
Looking for specifications and more capabilities? Browse media servers, disc loaders, NAS & more by PrimeArray. All models are customizable with added features like increased storage, speed & more.