PrimeArray News and Resources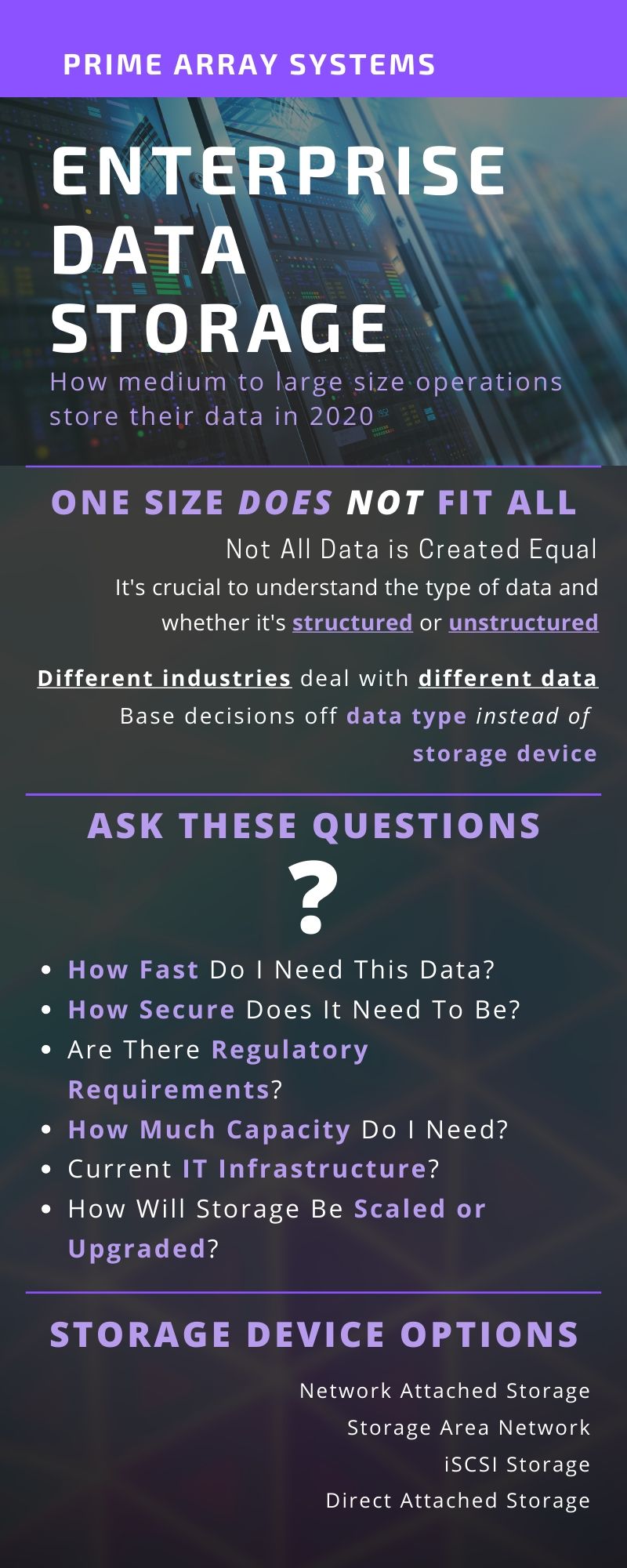 Enterprise Data Storage: Decision Making Process
When organizations reach the enterprise level, sufficient data storage is always an obstacle no matter the sector or industry. All enterprise level businesses require high level data storage solutions. As businesses scale in size, so do their data storage requirements. Success doesn't come overnight and your IT infrastructure continuously scales to your company needs. While you grapple with which solutions to choose the right enterprise data storage for your business, you must assess your current situation.
Ask yourself these questions
What type of data are you storing?
Most enterprise level businesses have an abundance of unstructured data. There are two obstacles you can face when dealing with these types of datasets. Files can range from a few bytes to multiple terabytes in size. Luckily, PrimeArray Systems offers custom solutions for enterprise storage and can offer over 10PB in storage capacity. Another obstacle for unstructured data storage is collaboration. Your organization most likely has multiple locations. There are a few drawbacks when dealing with replication and governance.
How fast do you need to access the data?
PrimeArray Systems offers enterprise data storage devices with various specifications and functionalities. If speed is one of your top priorities, the storage device's "interface" will decide how fast the data will read and write. A large part of speed depends on the type of network you're connected to.
How much storage capacity do you need?
PrimeArray enterprise data storage devices are suitable for any large scale operation. With access to over 10 PB (petabytes) or 10,000 TB (Terabytes) of storage capacity, you'll find that there is no limit when it comes to enterprise storage. It all depends on your price range and current IT infrastructure. We always stress to our customers that PrimeArray storage products are customizable to each business's liking.
Which storage device should you choose?
Browse PrimeArray storage solutions for enterprise level companies.
Choose between Network Attached Storage, Storage Area Network, iSCSI Storage & Direct Attached Storage.