Need help choosing the right
product? Need pricing info?
click here
to speak to an Advisor.
Do you own an old CD/DVD server or NAS storage system from Excel Meridian Data?
Was your business left stranded when Excel Meridian closed up? You are not alone! When they shut down, thousands of their customers were cut adrift with no support, with no path to more advanced models of products and with diminishing compatibility with new Windows releases
PrimeArray Systems and Excel Meridian Data utilized the same processing platform back during the period when Meridian was active. PrimeArray is in perfect position to provide support and/or an upgrade path for your Excel Meridian configuration (because we know exactly how it functions). Our solutions ensure full compatibility with the newest Windows releases. We have data migration tools that make upgrade to higher performance and fully compatible models easy to accomplish.
Yes, we know you were left without support or an upgrade path from Excel Meridian. But, we know those platforms well.. We can provide the support/upgrade paths you need.
Give us a call/send an e-mail. We welcome the opportunity to become your long-term resource
Call 978-455-9488
Excel Meridian Technical Support and Upgrade.
PrimeArray has been a leading CD/DVD & NAS server provider since 1999. Our reputation is built on high quality, feature-rich products backed by the best support in the industry. There's a reason that organizations in almost all sectors of government, education and business--- including leaders in many industries -- use our CD/DVD & NAS server solutions for their needs. And, we know the older technologies. We have never left our customers adrift. We can help you and provide solutions for your needs going forward.
Who uses our CD DVD Server

10% Off∗ Till May 1st 2013

Call 978-455-9488 or request an obligation free Quote now.
PrimeArray's systems are competitively priced and deliver great value. As every PrimeArray network-attached CD/DVD storage system is configured to meet the customer's requirements, the price varies depending on the configuration. Please contact us to receive a prompt price quote.
∗Restrictions may apply
Note: CD/DVD servers are not designed to handle audio CDs or copy- protected DVD movies.


Excel Meridian Data NAS Servers
Network Attached Storage
NetStor WSS Series
DataNAS Director
DataNAS XP
DataShare x2
Excel Meridian Data DAS Servers
Direct Attached Storage
SecurStor SATA
SecurStor XRS
TravelStor 8c
RAIDWatch
Excel Meridian Data SAN Servers
Storage Area Network
SecurStor SATA FC-R
SecurStor 250
SecurStor IP SAN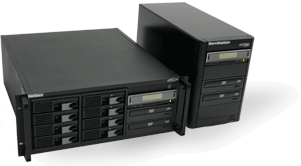 Warranty:
One year parts and labor
Extended warranty and service plans available
More information on the PrimeArray warranty
Download PrimeArray warranty in PDF
© 1998-2012 PrimeArray™ Systems, Inc. All Rights Reserved. Products, trademarks and company names used here are for identification purpose only and may be trademarks or tradenames of their respective companies.